Here at Kereru Kindy with our mixed age group setting and small group size, our older children become leaders for the younger children. This is because children don't move from class to class, but rather stay together during their time at Kindy. This practice is embedded in the Maori culture, and is called Tuakana teina, meaning the older will lead the younger and the younger will lead the older.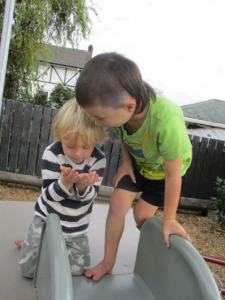 Tuakana teina can be seen in many different areas as the older tamariki help the younger tamariki with the scissors, finding or writing their names, or reading books together. Younger children will often look up to, and listen to their older peers. They see them as mentors and friends, and the older children have opportunity to become leaders and role models. Children grow in confidence, knowing that they are helpful and capable to lead and support their peers in a safe and fun learning environment.
Kereru Kindy is located at 10 Oraha Road, Huapai.
Phone 412 2624. Open 7.30 to 5.30 for children aged 2-5 years.
All welcome.